Men's Club Chowder Night
The Men's Club of the Church of the Holy Guardian Angels will put on a Clam Chowder Night in MacDonald Hall (Parish Hall) after Stations of The Cross.   
$5.00 for a Bowl of Clam Chowder, Bread and Tea and Coffee
Featuring the Sears Family Recipe of the late Captain Henry William Sears of Fair Haven, Connecticut and 
Dunmore, Harbour Island, Bahamas.   The Sears family of Harbour Island were ship captains and commercial 
fisherman of Fair Haven, CT, specializing in clams and oysters.  And with all that seafaring blood, we can maybe expect Fr. Sears to demonstrate dancing the hornpipe.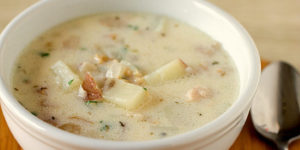 LET'S SUPPORT OUR MEN'S CLUB AND PARISH
Proceeds go toward the air conditioning fund.