Saints for the month of 

April
4 – Isidore of Seville
11 – Leo the Great
14 – Justin, Martyr
21 – Anselm, Archbishop of Canterbury
23 – George, Martyr
25 – Mark, Evangelist
29 – Catherine of Sienna
[su_divider]
[su_divider]
(November 30): Andrew the Apostle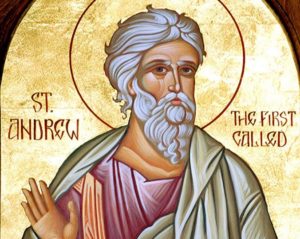 Saint Andrew was one of the twelve apostles. He lived in Capernaum where he made his living as a fisherman. He was the brother of Simon Peter and a follower of John the Baptist before becoming a disciple of Christ.
In the Gospels, we learn of him helping in the distribution of the loaves and fishes to feed the 5000, and for bringing certain Greeks to meet Jesus (John 12: 20-22).
The accompanying picture of Andrew was painted by the Spanish Mannerist painter El Greco (1541-1614)
There is no record as to where he was sent to proselytize following Our Lord's ascension, but legend holds that it was Greece. He died around 60 A.D.
[su_divider]
(November 17): Hugh of Lincoln, Bishop & Confessor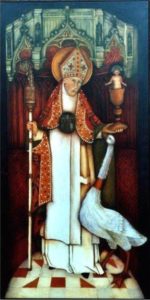 Hugh (C. 1135 – 1200) was born at Avalon in Burgundy. He became a monk at age 24 and later, at the request of King Henry II of England, was called to be the prior of the first Carthusian house in England, located in Somerset. Under his direction the house flourished, and he became the bishop of Lincoln, in 1186.
Under his bishopric, he chose learned men to help him govern, and he rebuilt his cathedral, held synods and visited the parishes of his diocese confirming, baptizing, and consecrating churches.
He was not afraid to excommunicate lay people who refused to recant their heretical views, nor to admonish kings, and would not appoint unbelieving men of wealth to church benefices.
Hugh was also fond of animals, and had a pet swan that he fed from his hand who would follow him about and even kept watch over him by night. Hence, his reliefs often show him with his pet swan standing at his feet. The accompanying picture is of the statue of Saint Hugh at the Saint Hugh of Lincoln Roman Catholic Church in Huntington Station, New York
Hugh encouraged his lay people to have a charitable heart, to be careful with the wiles of the tongue and to live chaste lives. May we, too, seek to follow his example and heed his admonitions. 
[su_divider]
6/20/2017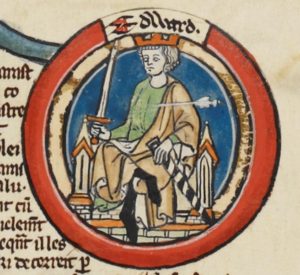 Translation of Saint Edward, King and Martyr. 
This Edward was the son of Edgar the Peaceful, King of all England. He was baptized by Archbishop Saint Dunstan of Canterbury, who fostered him in things spiritual, like as though he were his own son. When the lad was only thirteen years of age, King Edgar died, and his widow, who was Prince Edward's stepmother, strove to set her own son Ethelred on the throne, which same was but seven years of age. But the chief men of the realm chose Prince Edward, in accordance with his father's will. Thereupon the young King Edward submitted himself to the guidance of holy Dunstan, and other wise counsellors; and he grew in favour with God and man as he grew in stature, and so gave promise of great things. But the enemy of all good stirred up the stepmother to plot his death (for so it hath ever been believed) that her own son might reign in his stead.
Now when this excellent youth had reigned three years and eight months, it chanced that he went hunting one day in Warham Wood. And as he was fain to see his brother, whom he dearly loved, he went to the house of his stepmother which was hard by. Whereat they that were with him, took leave of him to continue their pastime, so that the King came alone to the house, suspecting no evil. And the wicked Dowager-queen rejoiced that she had gotten a fit time to carry out her evil desire, and welcomed him, and bade bring him refreshment. Thereupon, whilst he was drinking of the cup which had been offered, a courtier who had just given him the kiss of peace stabbed him with a dagger.
Then the King set spur to his horse, wherefrom he had not yet dismounted; but he soon fell from the saddle, with one foot caught in a stirrup, and thus he was dragged to death. It was on March 18th, 987, that the young King thus went to God. And his stepmother caused his body to be flung in a marsh; but it is said a great light revealed where it lay, whence it was taken and buried with honour. And afterwards, through the intercession of this holy youth in heaven, the stepmother repented, and built monasteries, into one of which she retired from the world, and did penance all the days of her life.
Collect
O GOD, who reignest in glory over an everlasting kingdom: we beseech thee mercifully to behold thy family, who on this day call to remembrance blessed Edward thy King and Martyr; and grant, that by his merits and intercession, they which now rejoice in his triumph may likewise attain to his reward in heaven. Through the same our Lord Jesus Christ, who liveth and reigneth with thee and the same Spirit ever, one God, world without end. Amen.
The Anglican Breviary, Frank Gavin Liturgical Foundation, Inc., New York, 1955, pages 1857-1858; 1877
  [su_divider]
6/17/2017

Saint Botulph,Abbot. 
Patron saint of travellers
Botulph, and his brother Adulph, both of whom are venerated as Saints, went as youths to Belgic Gaul, and there became monks. Adulph is said to have become a regionary bishop at Utrecht. Botulph in the course of time returned to England, and founded, about the year 654, a monastery at a place usually identified with Boston in Lincolnshire, for Boston is a corruption of Botulph's Town. He was proclaimed far and wide as a man of remarkable life and learning, full of the grace of the Holy Spirit, and went to God about the year 680. And when the monastery was destroyed during the Danish invasion of the ninth century, his relicks, and those of Saint Adulph which had been enshrined with him, were saved, and later distributed among various great Minsters in England.
Collect
GRANT, we beseech thee, O Lord, that the prayers of thy holy Abbot, blessed Botulph, may commend us unto thee: that we, who have no power of ourselves to help ourselves, may by his advocacy find favour in thy sight. Through the same our Lord Jesus Christ, who liveth and reigneth with thee and the same Spirit ever, one God, world without end. Amen.
The Anglican Breviary, Frank Gavin Liturgical Foundation, Inc., New York, 1955, pages 1877
Information source: http://www.anglicancatholic.org
As the patron saint of travellers, four churches at the gates of the city took his name, our neighbour St Botolph without Bishopsgate, St Botolph without Aldersgate at the other end of the City and St Botolph without Billingsgate, which was destroyed in the Great Fire of London in 1666. On their way to and from the City people would stop and pray and give thanks for travelling mercies.
O God, by whose grace the blessed Abbot Botolph,
enkindled with the fire of your love,
became a burning and a shining light in your church;
grant that we may be inflamed
with the same spirit of discipline and love,
and ever walk before you as children of the light,
through Jesus Christ our Lord.
Amen.
[su_divider]
6/15/2017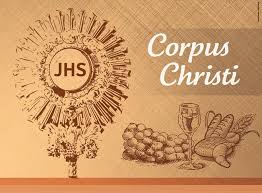 THE COMMEMORTION OF THE MOST HOLY BODY AND BLOOD OF OUR LORD JESUS CHRIST, COMMONLY CALLED THE FEAST OF CORPUS CHRISTI
INTROIT. for Votive Masses only


 He fed them also with the finest wheat flour: and with honey from the rock hath he satisfied them (alleluia, alleluia). Ps. ibid. Sing we merrily unto God our helper: make a cheerful noise unto the God of Jacob. V. Glory be.
INTROIT. Cibavit eos. Ps. 81.
He fed them also with the finest wheat flour: and with honey from the rock hath he satisfied them, alleluia, alleluia, alleluia. Ps. ibid. Sing we merrily unto God our helper: make a cheerful noise unto the God of Jacob. V. Glory be.
The Collect. 

 
O GOD, who in a wonderful Sacrament hast ordained unto us a Memory of thy Passion: grant us, we beseech thee, so to worship the sacred mysteries of thy Body and Blood, that we may ever know within ourselves the fruits of thy redemption. Who livest and reignest with the Father.
The Epistle. 1 Corinthians 11:23-29
23 BRETHREN: I have received of the Lord that which also I delivered unto you, That the Lord Jesus the same night in which he was betrayed took bread:
24 And when he had given thanks, he brake it, and said, Take, eat: this is my body, which is broken for you: this do in remembrance of me.
25 After the same manner also he took the cup, when he had supped, saying, This cup is the new testament in my blood: this do ye, as oft as ye drink it, in remembrance of me.
26 For as often as ye eat this bread, and drink this cup, ye do show the Lord's death till he come.
27 Wherefore whosoever shall eat this bread, and drink this cup of the Lord, unworthily, shall be guilty of the body and blood of the Lord.
28 But let a man examine himself, and so let him eat of that bread, and drink of that cup.
29 For he that eateth and drinketh unworthily, eateth and drinketh damnation to himself, not discerning the Lord's body.
GRADUAL. Ps. 145. The eyes of all wait upon thee, O Lord: and thou givest them their meat in due season. V. Thou openest thine hand: and fillest all things living with plenteousness.
Alleluia, alleluia. V. St John 6. My Flesh is meat indeed, and my Blood is drink indeed: he that eateth my Flesh and drinketh my Blood, dwelleth in me, and I in him. (In Votive Masses here is added Alleluia.)
In Votive Masses after Septuagesima, instead of the Alleluia,, and verse following, is said:
TRACT. Mal. I. From the rising of the sun even unto the going down of the same my Name shall be great among the Gentiles. V. And in every place incense shall be offered unto my Name, and a Pure Offering: for my Name shall be great among the heathen. V. Prov. 9. Come, eat of my bread and drink of the wine which I have mingled.
In Votive Masses, in Eastertide, instead of the Gradual, is said:
Alleluia, alleluia. V. St. Luke 24. The Lord Jesus was made known unto his disciples in the Breaking of Bread. Alleluia. V. St John 6. My Flesh is meat indeed, and my Blood is drink indeed; He that eateth my Flesh, and drinketh my Blood, dwelleth in me, and I in him. Alleluia.
SEQUENCE. Lauda Sion Salvatorem. To be omitted in Votive Masses.
Laud, O Sion, thy Salvation,
Laud with hymns of exaltation
Christ, thy King and Shepherd true:
Spend thyself, his honour raising,
Who surpasseth all thy praising;
Never canst thou reach his due.
Sing to-day, the mystery shewing
Of the living, life-bestowing
Bread from heaven before thee set;
E'en the same of old provided,
Where the Twelve, divinely guided,
At the holy Table met.
Full and clear ring out thy chanting,
Joy nor sweetest grace be wanting
To thy heart and soul today;
When we gather up the measure
Of that Supper and its treasure,
Keeping feast in glad array.
Lo, the new King's Table gracing,
This new Passover of blessing
Hath fulfilled the elder rite:
Now the new the old effaceth,
Truth revealed the shadow chaseth,
Day is breaking on the night.
What he did at Supper seated,
Christ ordained to be repeated
His memorial ne'er to cease:
And, His word for guidance taking,
Bread and wine we hallow, making
Thus our sacrifice of peace.
This the truth to Christians given –
Bread becomes His Flesh from heaven,
Wine becomes His Holy Blood.
Doth it pass thy comprehending?
Yet by faith, thy sight transcending,
Wondrous things are understood.
Yea, beneath these signs are hidden
Glorious things to sight forbidden:
Look not on the outward sign.
Wine is poured and Bread is broken,
But in either sacred token
Christ is here by power divine.
Whoso of this Food partaketh,
Rendeth not the Lord nor breaketh:
Christ is whole to all that taste.
Thousands are, as one, receivers;
One as thousands of believers,
Takes the Food that cannot waste.
Good and evil men are sharing
One repast, a doom preparing
Varied as the heart of man;
Doom of life or death awarded,
As their days shall be recorded
Which from one beginning ran.
When the Sacrament is broken,
Doubt not in each severed token,
Hallowed by the word once spoken,
Resteth all the true content:
Nought the precious Gift divideth,
Breaking but the sign betideth,
He himself the same abideth,
Nothing of His fulness spent.
Lo! the Angel's Food is given
To the pilgrim who hath striven;
See the children's Bread from heaven,
Which to dogs may not be cast;
Truth the ancient types fulfilling;
Isaac bound, a victim willing;
Paschal lamb, its life-blood spilling;
Manna sent in ages past.
O true Bread, good Shepherd, tend us,
Jesu of thy love befriend us,
Thou refresh us, thou defend us,
Thine eternal goodness send us
In the land of life to see;
Thou who all things canst and knowest,
Who on earth such Food bestowest,
Grant us with thy Saints though lowest,
Where the heavenly Feast thou shewest,
Fellow-heirs and guests to be. Amen. Alleluia.
The Gospel. St John 6:55-58  

55 AT that time: Jesus said unto the multitude of the Jews: my flesh is meat indeed, and my blood is drink indeed.
56 He that eateth my flesh, and drinketh my blood, dwelleth in me, and I in him.
57 As the living Father hath sent me, and I live by the Father: so he that eateth me, even he shall live by me.
58 This is that bread which came down from heaven: not as your fathers did eat manna, and are dead: he that eateth of this bread shall live for ever.
OFFERTORY. Lev. 21. The priests of the Lord do offer the offerings of the Lord made by fire and the Bread of their God: therefore they shall be holy unto their God, and not profane the Name of their God. (In Eastertide and Corpus Christi Tide: Alleluia)
SECRET. We beseech thee, O Lord, that like as we in these our oblations do shew forth in a mystery the unity and concord of thy Church: so thou wouldest ever mercifully bestow upon her these thy blessings. Through.
COMMUNION. I Cor 11. As often as ye do eat of this Bread, and drink of this Cup, ye do shew the Lord's death till he come: wherefore, whosoever shall eat of this Bread, and drink of this Cup of the Lord, unworthily, shall be guilty of the Body and Blood of the Lord. (In Eastertide and Corpus Christi Tide: Alleluia.)
POSTCOMMUNION. Grant, we beseech thee, O Lord: that we who in these outward tokens have been made partakers of thy most precious Body and Blood; may after this life be replenished with the fruition of thy glorious Godhead. Who livest and reignest with the Father.
[su_divider]
6/14/2017

Saint  Basil the Great
Bishop, Confessor, and Doctor of the Church.
Patron of hospital administrators
"The Father of Monastic Communities"
Basil, one of the most distinguished Doctors of the Church, was born in 329, at Caesarea of Cappadocia. He came of a remarkable Christian family; for his paternal grandfather was persecuted to death for Christ, and his maternal grandmother, who reared him as a lad, was Saint Macrina the Elder. He was one of ten children born to his parents, who were Saints Basil the Elder, and Emmelia who was a Martyr's daughter. His sister was the eminent foundress of religious houses for women, Saint Macrina the Younger; and two of his brothers namely, Saints Gregory of Nyssa and Peter of Sebaste, as well as himself, became bishops known for their godliness and courage. He, and his brother Gregory of Nyssa, and his intimate friend Saint Gregory of Nazianzus, are often referred to as the three Cappadocians because of their mighty deeds and writings against those enemies of true religion to whom they jointly gave battle in their day. And Basil is reckoned, along with Saints John Chrysostom, Gregory of Nazianzus, and Athanasius. as one of the first four Doctors of the East, and is revered next after Athanasius as the defender of the Faith amongst the Orthodox Catholics of the fourth century. He was also the author of the monastic rule called by his name, and followed by the monks of the East, who venerate him as the very Patriarch of Monks.
He studied earthly learning at Athens, in company with Julian the Apostate and Gregory of Nazianzus. To the latter he was ever united in an austere yet tender friendship, which is one of the beauties of Christian history, and concerning which Gregory saith they were as one soul in two bodies. His saintly sister Macrina, fearing that he might be overcome by the brilliant success he so early attained as a teacher, influenced him to travel in search of holy monks, with whom he lived in Egypt, Palestine, and Syria. From them he gained that sacred learning and discipline of life, whereby he won for himself the surname of The Great. After his return to his native land, he established a monastery in Pontus. There he also laboured in the Gospel of Christ Jesus, to bring back into the way of salvation that country which before had been wandering astray from the rules of Christian belief and discipline. For Saint Gregory Nazianzus fetched him forth from his retreat, and joined him to himself, in a great work of preaching against the Arians. Basil was shortly afterwards united as coadjutor to Eusebius, Bishop of Caesar, for the edification of that city, and afterwards became his successor in the See. In which once he had much to suffer for the Faith because as Exarch of that region he had oversight over many bishops and their clergy, which same loved him not, because of his zeal for the Catholic religion. One of his chief labours always was to maintain that the Son is of one substance with the Father; and when the Emperor Valens was moved to wrath against him, and willed to send him into exile, he so bent that monarch, by dint of wondrous virtues and mighty deeds, that Valens was forced to forego his intention.
The abstinence and self-control of Basil were truly remarkable. He was content to wear nothing but one single garment. In observance of fasting he was most earnest; and so instant in prayer, that he would oftentimes pass the whole night therein. He built monasteries, wherein he so adapted the institutions of monasticism, that he exquisitely united for the inmates the advantages of the contemplative and of the active life; and it was for these that he wrote his famous monastic rule. He was the author of many learned writings, and according to the witness of Gregory of Nazianzus, no one hath ever composed more faithful and edifying explanations of the books of the Holy Scripture. He died on January 1st, in 379, at the age of forty-nine, at which time so essentially spiritual was his life, that his body shewed nothing but skin and bones. But his feast is kept on June 14th, which is the reputed date of his consecration to the episcopate. The so-called Liturgy of Saint Basil, so widely used in the Eastern Church, is the revision of the current liturgy of Caesarea, which he made when he was as yet a priest there under Bishop Eusebius. Seventy-two years after his death the Council of Chalcedon entitled him: The Great Basil, Minister of Grace, who expounded the truth to the whole earth.
WE beseech thee, O Lord, graciously to hear the prayers which we offer unto thee on this festival of thy holy Confessor and Bishop, Saint Basil: that like as he was found worthy to do thee faithful service; so by the succour of his merits we may be delivered from the bonds of the sins which we have committed. Through the same our Lord Jesus Christ, who liveth and reigneth with thee and the same Spirit ever, one God, world without end. Amen.
The Anglican Breviary, Frank Gavin Liturgical Foundation, Inc., New York, 1955, pages 1243-1245
Main source of information : http://www.anglicancatholic.org